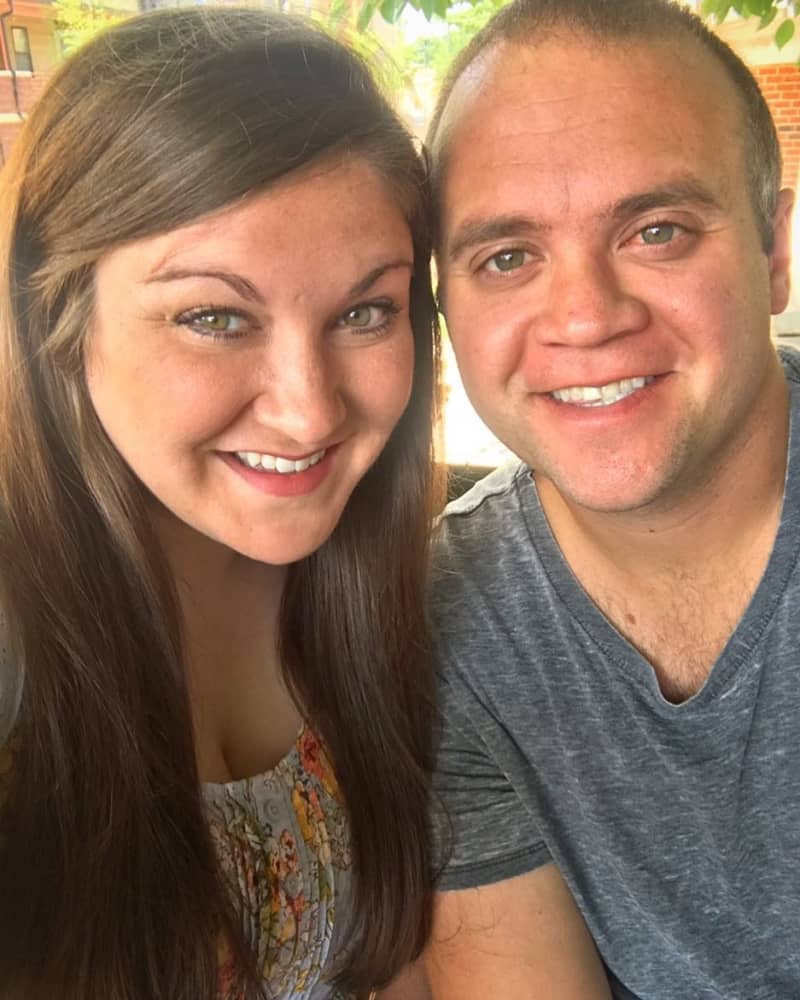 Our Family
Biological Children: 0
Adoptive Children: 0
Pets: 1 (dog)
Candice
My Occupation: Middle School Language Arts Teacher
My Education: Master's Degree as a Teacher Leader, Literacy Specialist
My Ethnic Background: Caucasian
My Faith: Christian
Favorite Food: chips and salsa
Favorite Holiday: Christmas!
Favorite Music Genre: I love ALL things music and most all genres
Favorite Childhood Memory: playing school with my little sister or with my toy horses
Favorite Quote: "Be joyful in hope, patient in affliction, and faithful in prayer." - Romans 12:12

Eric
My Occupation: High School Pastor
My Education: Bachelor's Degree from Manhattan Christian College
My Ethnic Background: Caucasian
My Faith: Christian
Favorite Sport: Soccer, but I really do love all sports!
Favorite Food: Buffalo Style Chicken Anything. Wings, Dips, Pizza, whatever! If it can be buffalo chicken, I will probably love it!
Favorite Animal: Dogs
Favorite Holiday: Christmas!
Favorite Family Tradition: Around Christmas time, we usually celebrate with an "pre-Christmas morning" with gifts and everything here in Kentucky, before we drive back to Kansas to celebrate with our families.

Family Life
Every picture tells a story...
Letter to Expectant Parent(s)
Dear Expectant Parent(s),

Even though we cannot imagine how difficult this might be, we're grateful that you are considering making an adoption plan. Our hope and prayer is that through this letter, you may gain clarity and confidence about what family means to you and what you desire for your child's future. Whether we're the couple you are looking for or not, we pray that you may have peace in your decision and find the right fit.

We have been married for 8 years now and have always hoped that kids would be a part of our family story. We both grew up in Kansas, where we met in high school at church. (We know it's cheesy. But yes, we're high school sweethearts:) When we were first married after college, we moved to Phoenix, Arizona for 3 years for Eric's first internship and job at a church out there. We moved to Kentucky for Eric's youth pastor job and have been in Lexington for 5 years now. While we miss our family back in Kansas and go visit often, we have loved growing our roots here and celebrating all things Kentucky. About 3 years ago, we started trying to get pregnant. As we waited, dreamed and prayed for our future family, it became very clear that adoption should also be a part of that story. We are grateful to have many wise families around us who have also adopted and have prayed with us through this decision. We cannot wait to bring a child along for this adventure we call life! While it sometimes can be a fast-paced life for sure, we love hanging on for the ride.

Candice loves her job teaching middle school students Language Arts. Eric is a youth pastor for high school students at the church we moved to Kentucky for, and we've both enjoyed serving and volunteering extra time together with students over the years. Both of our careers are incredibly demanding yet rewarding, and we can't wait to learn a new change of pace in becoming parents. We have so many wonderful friends we consider family here to guide us through this new journey of parenting, and we know our Kansas family will be here at the drop of a hat to welcome a new child.

In our free time we like to go to sporting events, musicals, or even simply dinner and a movie, but mostly we enjoy hanging out with our friends and inviting others into our home where our dog Willie often steals the show. Eric loves all things sports - from soccer, to baseball, to football, to playing golf and more in between, you can find us cheering on our favorite teams every time the seasons change. Candice enjoys all things art - from music, to playing her cello, to singing, to reading and writing, we know our future children will learn from her passion and artistic abilities. We also love celebrating holidays and traveling to see friends and family in all different parts of the country. We cannot wait to share our personal hobbies and interests with a child, knowing they will bring their own unique set of gifts and interests to our family as well.

Throughout our marriage, through friendships, in ministry, and in teaching, we've come to realize how much we appreciate working and doing life with people of all ages, ethnicities, backgrounds and stories. We want our family to reflect those values for a beautifully diverse world, and we want our child to grow up valuing what makes them beautifully unique. Eric and I have learned that by cherishing each other's differences, our family becomes stronger. We love deeply, forgive often, and pray daily. We hope our child will share those same values as well.

Thank you so much for taking the time to consider an adoption plan for your child. We pray that you'll have clarity in your decision and hope that you'll consider us as much of a part of your future family as we do you. However, we also want to walk wisely into an adoption you are comfortable with, and we want to be supportive of all your choices in this process. Our hearts are heavy as you make this decision, knowing that the choice cannot be easy. We can't tell you enough how grateful we are for your strength and humility to consider your child's needs before your own. We look forward to hopefully meeting you and pray for you and your family each day.

With Prayer and Gratitude,

Eric and Candice
Interested in Candice & Eric?
If you are interested in learning more about Candice & Eric contact us and we'll share additional information on this wonderful family.
Contact Us